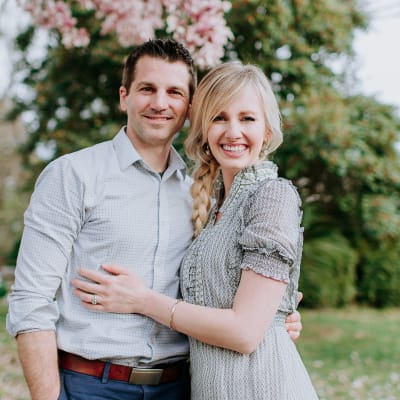 Your Hosts
Jason and Casey
Jason and Casey purchased Mayhurst in February 2020 and have continued the restoration started by the previous owners. They have brought fresh viewpoints, new ideas and unbundled energy to this wonderful estate. They also brought the friendliest goats you will ever meet. Come enjoy Mayhurst with them.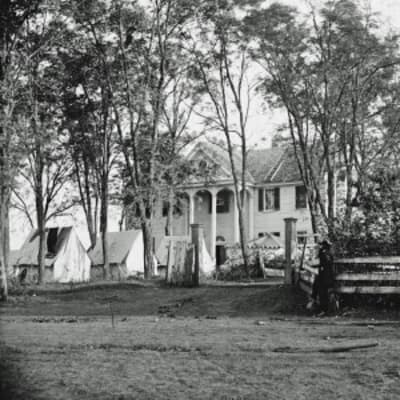 The History of Mayhurst
The Home of John Willis

Construction on the Mayhurst Manor House began in 1859, just two years before the Civil War. Undoubtedly it was the most fashionable home in Orange county at the time. The house was built in the latest style, Italianate. It is not known who designed the four story Italianate home. An educated guess is a Baltimore architect, Mr. Starkweather, who designed Camden on the northern neck. The similarities are remarkable; even to the marble mantles and the elaborate window and door trim.
Colonel John Willis, great nephew of President James Madison, was 50 years old when he built the mansion for his family of 8 children. It would be his "full tide of prosperity", said his daughter. The Willis plantation raised corn, cattle, hogs and horses. Fifty enslaved African-Americans worked the fields, and tended to the needs of the Willises. The very fertile Davidson soil provided bountiful harvests and the plantation prospered.
Unfortunately, Colonel Willis lost his home and at least 1700 of his 2500 acres in 1868. He had supported the Confederacy very generously and was unable to pay taxes. It was purchased by a Northern carpetbagger sent by the Federal government to administer the county. An original 110 year old copy of his obituary, found in the attic in 1996 and now hanging in the front hall, states "He bore the loss of his wealth with a philosophical fortitude that almost amounted to indifference, and no one can say that they ever heard a murmur escape his lips that having been rich he had become poor." He is buried at Montpelier.
The Montpelier Connection

Mayhurst is linked with Madison's Montpelier in several ways. Not only was John Willis a great nephew of President Madison, but, as the crow flies, the properties are only 2 miles apart and were contiguous.
Additionally, James Madison's personal slave, Paul Jennings, was married to a slave (Fanny Gordon) owned by Mayhurst - then called the "Howard Place". Paul Jennings and his wife had 5 children and, after Paul gained his freedom, three of the surviving sons and a daughter joined him in Washington, DC. All three sons served in the Union Army fighting against the Confederacy – Poetic Justice
Mayhurst Estate is a grand historical estate, and has played a role in history throughout its existence.
Mayhurst has been a grand home to several families, a head quarters during the civil war, a cattle farm, a boarding house during world war one for those who worked at the Silk Mill down town Orange, as well as home to Judge Hiram Bond who was the judge that was written about in Jack London's book "The Call of the Wild".
There is so much to explore about the history of this great house, and we have much more to come in the future.
Please stay tuned for more history moments, or visit our Facebook Page to watch our history videos.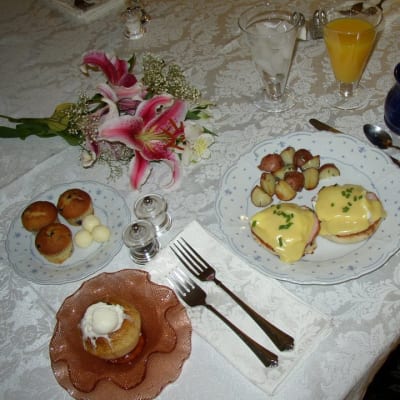 Favorite Recipes
Mayhurst Inn Baked Apples
A breakfast delight. Start your day with dessert. Hot Baked Apples with a brown sugar, cinnamon, nutmeg and raisin filling that will have your guests' mouths watering and asking for more. Serves 6.
Ingredients:
6 Gala or Fiji apples (They don't get "mushy" or fall apart when cooked)
1 Cup Dark Brown Sugar
1 Tablespoon Cinnamon
¼ teaspoon Nutmeg
Raisins
Directions:
Peal about 2/3 to 3/4 down on apple
Core (but don't go through bottom)
Mix Dark Brown Sugar, Cinnamon and Nutmeg
Fill cavity with mix of dark brown sugar, cinnamon and nutmeg (Save the remainder for the next time).)
Add a few raisins periodically as you fill the cavity (optional)
Top with one Tablespoon of butter
Place in baking pan with 1/2 inch of water in pan
Bake at 375 for 45 min
Remove from oven - top with French Vanilla Ice Cream or Heavy Cream and Serve


---
Mayhurst Inn Scones
Delightfully tasty raisin scones with crusty outside and soft inside. Perfect with homemade Blueberry Butter or Homemade Devonshire Cream. Serves 16.
Ingredients:
2 cups flour
½ cup butter
½ cup sugar
4 tsp baking powder
¾ tsp salt
2 eggs - well beaten
¼ cup milk or ½ and ½ or cream
½ cup raisins or chopped almonds or choc. chips or cinnamon chips or chopped dried fruit , etc.
Directions:
Mix flour, sugar, baking powder and salt together
Cut in butter with pastry cutter or 2 knives
Mix eggs with milk and add to dry ingredients
Do Not over mix
Add raisins or other ingredients
Drop by spoonfuls onto un-greased sheet cake pan or onto parchment paper (my preferred method), or Press into 2 very lightly greased pie pans (I use glass)
Bake 375 for 14 to 15 minutes
Brush tops with butter and sprinkle with coarse sugar
Can be frozen and reheated briefly, but never as good as fresh.


---
Mayhurst Inn Warm Mixed Fruit Compote
A warm and delicious way to start off breakfast on those cool days of Fall, Winter and Spring. Guests will always clean their bowls! Serves 6.
Ingredients:
6 cups fresh berries (blueberries, raspberries, blackberries) and peaches- or frozen fruit and canned peaches if fresh is not in season or not available
1 cup sugar
1 cup flour
1 large egg
6 TBS butter
Heavy Cream or Whipped Cream or Ice Cream
Directions:
Preheat oven to 375
Pour 6 cups fresh berries and peaches in lightly greased 9 x 13 baking dish.
Stir together 1 cup sugar, 1 cup flour and 1 large egg until it resembles a coarse mixture.
Sprinkle over fruit.
Drizzle 6 TBS melted butter over topping.
Bake at 375 for 35 to 40 minutes until lightly brown and bubbly. (If using frozen fruits increase the cooking time to 45 - 50 minutes.)
Let stand for 10 minutes.
Serve with heavy cream, whipped cream or over ice cream.


---
Mayhurst Inn Hot Buttered Rum
A delightful and robust winter drink. Warms you inside and out. Serves 20+.
Batter
Ingredients:
1 lb dark brown sugar
¼ lb butter
¼ - ½ tsp nutmeg
¼ - ½ tsp cloves
¼ - ½ tsp cinnamon
pinch of salt
Directions:
Beat Sugar and butter together until creamed and fluffy
Beat in spices and salt
Put 2 full tsp of batter into cup
Add 1 jigger (1&1/2 oz or 2 tbs) of dark rum
Fill with hot water
Stir well
Jack adds an additional thin pat of butter and stirs lightly.
Batter keeps well in refrigerator.


---
Mayhurst Inn Chicken Casserole
A delightful family dinner main course or a perfect (and easy) dinner when unexpected guests arrive. Serves 8.
Ingredients:
8 skinless and boneless chicken breasts
8 slices Swiss cheese
1 can cream of chicken soup
¼ cup white wine
2 cups Pepperidge Farms stuffing
½ cup melted butter
Directions:
Put chicken in a shallow baking dish.
Place one slice of cheese on each breast
Mix wine with soup and pour over chicken and cheese
Sprinkle the stuffing over all
Dribble the melted butter over everything
Bake uncovered at 350 for 1 hour

_______________________________________________________________
Mayhurst Inn Bourbon Slush - The "Recipe"
Steep - 3 tea bags - plain black - Lipton type
2 cups boiling water
Cool
Mix - 1 12 oz can frozen lemonade (defrosted)
1 6 oz can frozen orange juice (defrosted)
1 cup sugar (or less)
6 cups cold water
Add - 1 2/3 cups Bourbon to tea and juice mix
Freeze in large plastic containers.
Place in punch bowl or serve directly from the plastic container. Use an ice cream scoop to scrape up a glass full of slush and serve with a spoon.
We have seen this served in a taller glass and mixed with ginger ale and sipped. But we like to eat the slush. It won't last long enough to completely melt.
Small group of 10 to 12 people
Double for 20 to 25 people.
Holds beautifully in freezer for later. We keep it on hand all summer.
Enjoy !!!